Premium Israel & the Palestinian Territories
Booking Dates
07/18/2021 through 11/22/2023
Travel Dates
07/18/2021 through 11/25/2023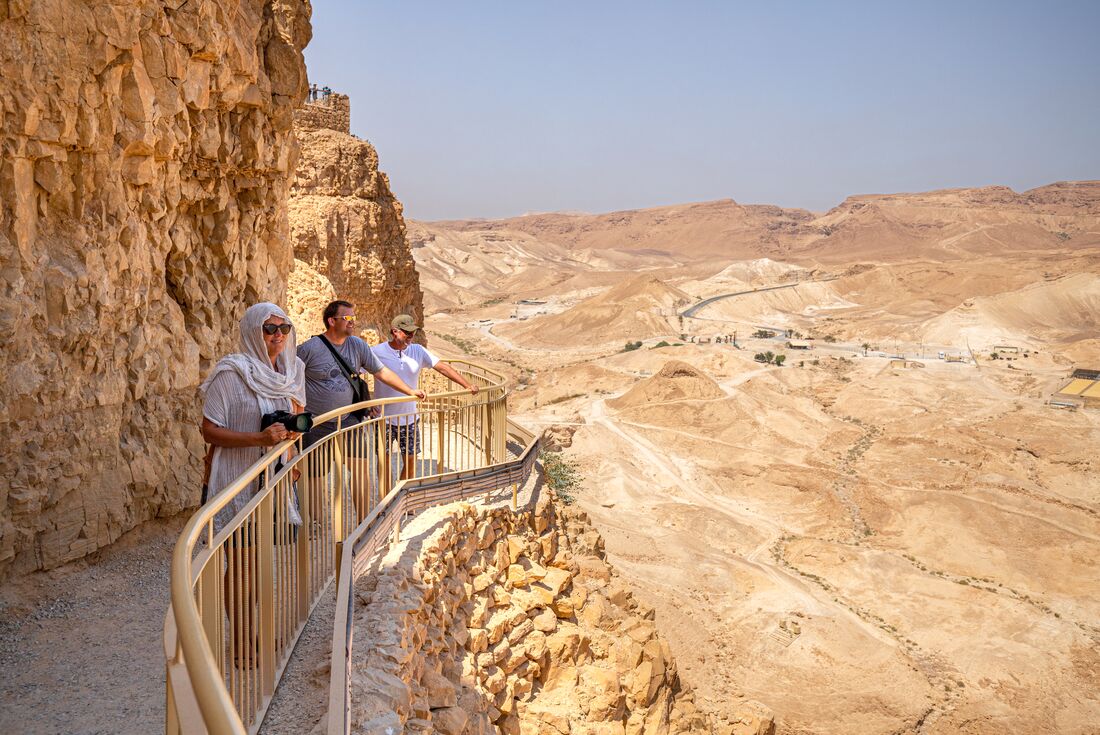 Premium Israel & the Palestinian Territories

Welcome to Israel and the Palestinian Territories, the land of ancient cultures, biblical treasures and thriving cities. Journey from Jerusalem to Tel Aviv with an experienced local leader and gain an understanding of the region's diverse viewpoints. Meet with a Christian family, a geopolitical expert, a local affected by the Holocaust and a rabbi along the way. Get a taste of local life with a number of authentic food experiences, and visit major religious and historical sites with insights from local experts. The Holy Land is so much more than just churches, so discover a country with a beautifully preserved past and a vibrant beating heart.

Activities
Complimentary Airport Arrival Transfer
Jerusalem – Welcome Dinner
Jerusalem – Leader-led orientation walk
Jerusalem – Western Wall (Wailing Wall)
Jerusalem – Old City walking tour
Jerusalem – Church of the Holy Sepulchre
Jerusalem – Church of Saint Anne
Jerusalem – Home-cooked Dinner
Jerusalem – Conversation with a regional expert
Jerusalem – Rooftop views from the Austrian Hospice
Qumran – Archaeological site visit
Jerusalem – Conversation with a local rabbi
Masada – Fortress visit by cable car
Dead Sea – Visit and float
Jerusalem – Yad Vashem Museum
Jerusalem – Mount of Olives
Jerusalem – Church of All Nations
Jerusalem – Garden of Gethsemane
Bethlehem – Church of the Nativity & Shepherds' Field
Tiberias – Church of the Multiplication
Tiberias – Sea of Galilee boat ride
Capernaum – St Peter's Church
Nazareth – Church of Annunciation & Mary's Well
Haifa – Bahai Gardens view & photo stop
Acre – Knights of St John Complex
Caesarea – Roman ruins
Tel Aviv – Hummus Tasting
Tel Aviv – Leader-led tour of Old Jaffa
Highlights
Experience for yourself some of the world's most renowned religious sites – the Church of the Annunciation, the Church of the Nativity, Via Dolorosa and the Western Wall.
Explore the hilltop fortress of Masada overlooking the vast Dead Sea, and venture down into the valley for a gravity-defying swim in its salty waters.
Gain an unmatched understanding of the region while travelling with an experienced local leader and spending time with the locals. Discuss history with a geopolitical expert, meet a local Rabbi and have dinner with a Christian family.
Taste the flavours of Israel and the Palestinian Territories when you dine in a 120-year-old building, break bread with a local family, and take part in a hummus tasting.
Soak in old school opulence in Bethlehem when you stay in a grand and elegant palace, commissioned by the city's former mayor over 100 years ago.
| Day | Description | View All |
| --- | --- | --- |
| Day 1 | Jerusalem | Details |
| Day 2 | Jerusalem | Details |
| Day 3 | Jerusalem | Details |
| Day 4 | Bethlehem | Details |
| Day 5 | Haifa | Details |
| Day 6 | Tel Aviv | Details |
| Day 7 | Tel Aviv | Details |