Classic Galapagos: Central Southern Islands (Grand Queen Beatriz)
Booking Dates
07/02/2023 through 12/07/2024
Travel Dates
07/02/2023 through 12/10/2024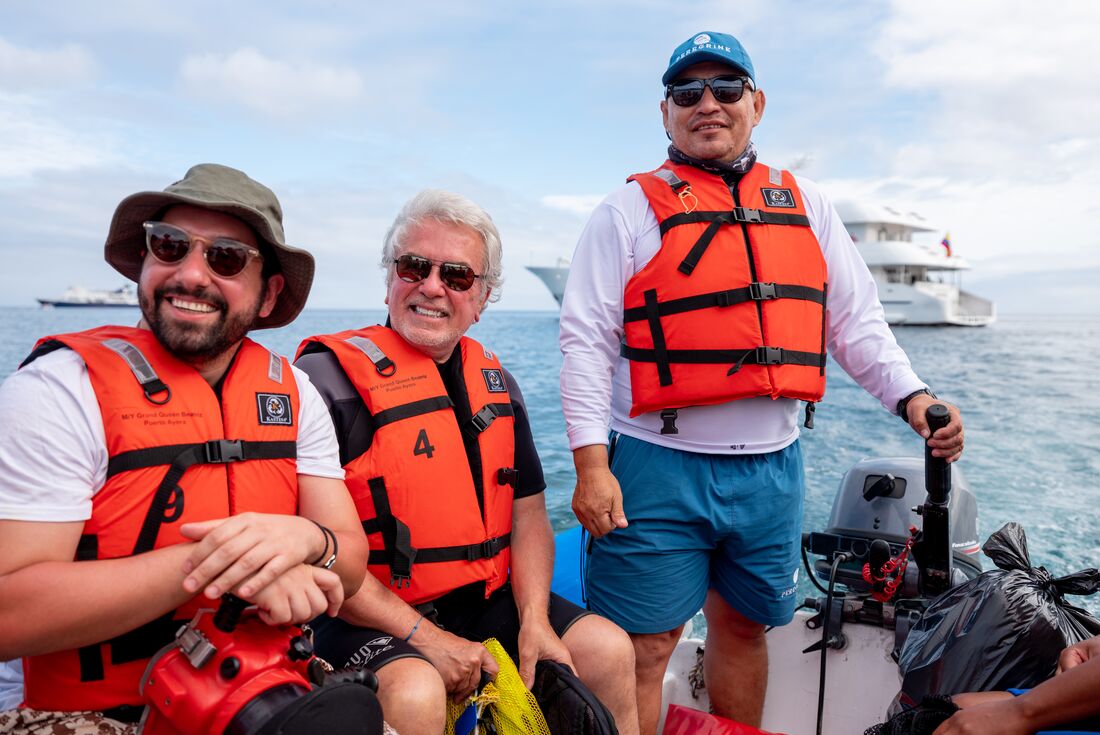 Classic Galapagos: Central Southern Islands (Grand Queen Beatriz)

Set sail on a 10-day expedition around the central and southern islands of the Galapagos, observing the unique wildlife of these remote Pacific islands. Be charmed by the native bird species, be amazed by an underwater ecosystem of colourful marine life and be delighted by its distinct environment. Hike across lava flows, sail through mangroves, and snorkel in natural aquariums abundant with fish, sea lions and turtles. This sail features an itinerary of some of the Galapagos's most picturesque islands, so sit back and relax, because it's all smooth sailing from here.

Activities
Isla Santa Cruz – Highlands Visit (1.5 hours) – Dry Landing
Isla North Seymour – Walk (2 hours) – Dry Landing
Isla North Seymour – Snorkelling (1 hours)
Isla Mosquera – Snorkelling (1 hour)
Isla Mosquera – Beach Walk (1.5 hours) – Wet Landing
Isla Santa Cruz – Black Turtle Cove – Panga ride (1.5 hours)
Isla Santa Cruz – Cerro Dragon – Walk (1.5 hours) – Dry Landing
Isla Santa Cruz – Cerro Dragon – Snorkelling or swimming (1 hour)
Isla Santiago – Sombrero Chino – Snorkelling (1 hour)
Sombrero Chino – Walk and Panga ride (2 hours) – Wet Landing
Isla Rabida – Snorkelling (1 hour)
Isla Rabida – Walk (1.5 hours) – Wet Landing
Isla Santa Cruz – Punta Carrion – Snorkelling (1 hour)
Isla Isabela – Las Tintoreras visit (1.5 hours) – Dry Landing
Isla Isabela – Arnolda Tupiza Tortoise Breeding Center including Flamingo Lagoon (2 hours) – Dry Landing
Isla Floreana – Post Office Bay – Walk (1.5 hours) – Wet Landing
Isla Floreana – Punta Cormorant walk (1.5 hours) – Wet Landing
Isla Floreana – Devil's Crown snorkelling (1 hour)
Isla Floreana – Post Office Bay snorkelling (45 mins)
Isla Santa Cruz – Charles Darwin Research Station (1 hour) – Dry Landing
Highlights
Experience the benefits of small group travel aboard your vessel, M/Y Grand Queen Beatriz, sailing through the natural beauty of the Galapagos, day and night.
Explore the islands on deck, on foot and in the water, waking to a new view each morning, and keeping an eye out for the next bird sighting or sea turtle passing by.
See the contrasting Galapagos landscapes between islands, from the unique formation of Sombrero Chino to the colourful sands of Isla Rabida.
Learn a thing or two about 18th century whalers at Post Office Bay, and participate by posting a letter at the remote mail drop.
Encounter the unique Galapagos wildlife in their natural habitat, from giant blue-footed and masked boobies, pelicans and frigate birds to iguanas, sea lions, tortoises and fur seals.
| Day | Description | View All |
| --- | --- | --- |
| Day 1 | Quito | Details |
| Day 2 | Baltra - Isla Santa Cruz | Details |
| Day 3 | North Seymour - Isla Mosquera | Details |
| Day 4 | Black Turtle Cove - Cerro Dragon. | Details |
| Day 5 | Isla Rabida - Sombrero Chino | Details |
| Day 6 | Punta Carrion - Bachas Beach | Details |
| Day 7 | Isla Isabela - Las Tintoreas - Giant Tortoise Breeding Centre | Details |
| Day 8 | Isla Floreana - Post Office Bay - Devil's Crown - Punta Cormorant | Details |
| Day 9 | Isla Santa Cruz - Quito | Details |
| Day 10 | Quito | Details |